Locals know that I've been spending a lot of time digging in the yard this year. It's slow progress, but you can notice the difference now.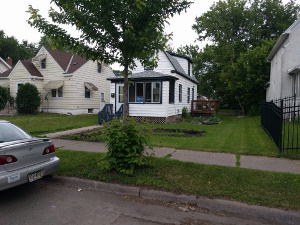 The front yard has strawberries, pumpkin, and flowers; the side yard has the vegetable garden, raspberries, and blueberries; and the back yard has an apricot tree, apple tree, some large vined foods (spaghetti squash, watermelon, cantaloupe, etc.), and bayberry.
Coworkers gave me some native plants, and they're in various stages of recovery or outright thriving. Also thriving this year is some bergamot that another coworker gave me 2 years ago. It's nice working with other nature afficionados.
It's very slow progress. Digging in the ground here means more than just lifting up the sod. It means sifting through all of the dirt and sod to shake out the "dangerous bits": broken glass, rusted nails, sawed off bolts, and lots of other stuff. My bucket of "stuff that shouldn't be in a yard" is full, and I still have a lot of sifting to do. I've been throwing a lot of sod into a makeshift cinder block compost heap, where I'll take it out next year to use for filling up a raised garden bed that I plan for next year. All of that material still needs to be sifted for dangerous bits.
This weekend, I dug up some bones that weren't obviously leftover dog food. My collection now includes these 5 samples (plus smaller bones or things that seem like bird bones).
I emailed this photo to the Minneapolis 311 service to ask for help in identifying this stuff, and to ask if my property was ever once a dumping ground. I'm finding all of this stuff (bones, glass, rusted metal) in any area of the yard and at any depth. When I water the new apricot tree, the standing water develops a faint blue oil sheen on it. I want to know if this property was once a dumping ground 100+ years ago, before the house was built.
And I need the giant box elder trees in the back yard to come down. I noticed carpenter ants this weekend. They have to go. Whether all these trees are on my property or the neighbor's though... is an arguable point.