It's been colder than usual in Minnesota this winter. We've also received a respectable amount of snow. Here's the view outside my window now. The snow (after shoveling and snow blowing since December) is as tall as my car.
Minnesota Public Radio aired
a 5-minute story
saying that we haven't had a winter like this one since 1981. We've had 5 ground blizzards this winter, ice covering
91% of Lake Superior
, frost depth to 1.2 meters (4 feet), and 40 consecutive days of subzero Fahrenheit temperatures here in the Twin Cities.
I've never known Minnesota to simply "shut down" because of the cold, but
it happened on January 3rd
this winter because of the deadly windchill. That Monday morning, I tried driving to work when it was -27C/-16F (-39C/-38F windchill). My engine soon overheated, though, because the radiator was frozen. I turned around to drive back home, but I had to stop 4 times to let the engine cool down before continuing. Unfortunately, the frozen radiator meant that I had no heat inside the car either, so my hands and feet were bitterly cold by the time I made it home again.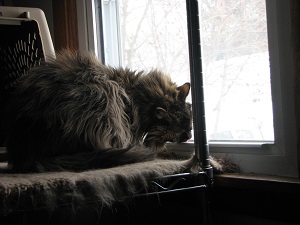 One side effect of the cold temperature is the condensation. All of the windows drip with air moisture that has condensed onto the cold glass. Occasionally, I'll hear a leak that spills water out, but when I go to investigate I just find that a window sill has collected too much water and it finally leaks over the edge in a small torrent. Both of the cats have learned to enjoy it, though. T'Reese favors licking the water from the sill (pictured here), while Hope licks the water directly off of the window panes... both the upper and lower panes. They keep my bedroom window from spilling any water.
Later that cold day, when I drove a short distance to the repair shop to have my radiator fluid flushed and replaced with something more cold-hardy, I heard a guy there parrot word-for-word the conservative media talking points about global warming being nonsense because, you know, it's cold now. I see 3 problems with this opinion.
First, it's winter. Give me a break. Of course this time of year is when you'd expect it to be cold, and especially here in Minnesota. Second, this kind of weather used to be typical for Minnesota, back decades ago before climate change had become so noticeable. Now, weather that used to be common for this area has instead not been seen in an entire generation... until finally this year. Third, while Minnesota experienced its burst of cold, Alaska was
baking in a comparative heatwave
. Places there have actually lost their snow cover to the melting... in Alaska... in winter.
As I keep saying, an atmosphere with more energy will become "well mixed", with currents
breaking usual patterns of air circulation
to spiral off into unusual locations. The more heat you add, the more frenetic those eddies become. I expect it to behave much like the phenomenon you see while watching a pot of boiling water. So, yeah, it's cold; yet climate change is real. At least the conspiracists this time made an interesting observation. We briefly saw the meme that fake snow was falling on Georgia because it wouldn't melt over a flame. My first thought was to wonder if the ice somehow sublimated, but the
water simply absorbs into the snowball
, instead.
Me, I think this winter is really cold. I've pondered a time or two the idea of throwing a pot of boiling water into the subzero air to watch it burst into snowflakes, but... it's cold out there! I'll just stay inside and watch the cats lick the windows instead.