I finally made it to Omaha Nebraska this week as part of a 4-day retreat for work with The Nature Conservancy.
I rarely take vacations, since travelling is more stressful than just relaxing at home. I've been in Minnesota for 18 years and still haven't gone across the northern border to Canada, east to Chicago, or west to see the rocks (
Mount Rushmore
and
Crazy Horse
) of South Dakota. My plan last week was to leave Friday or Saturday and go see the rocks. Instead, I delayed so I could hear Bernie Sanders in Minneapolis on Sunday, then I took off immediately for Omaha. I spent the night at Motel 6 in Omaha, then I walked around the
Omaha Zoo
for several hours. I was tired of walking and didn't go to the
Lauritzen Gardens
afterwards. Instead, I drove to Nebraska City, Nebraska for the conference.
The indoors exhibits for the Omaha Zoo are very good. They have habitats specifically for desert biome, jungle biome, and a smaller building just for butterflies (even hotter and more humid than the jungle, so my glasses fogged up). Their outdoors exhibits bothered me, though, because they had large animals in small spaces. The Minnesota Zoo is much more humane in this regard. The indoor exhibits in Omaha were even more impressive because some animals (mostly birds but some bats) were allowed territory that wasn't caged separately from the human paths. Animals were mixing in with people, and it was a great combination to see.
I recorded some video clips while I was there. They include
The desert dome had an underground exhibit devoted to all kinds of nocturnal creatures. They even had a large beaver lodge down there and a very tall "cave" whose roof had a bright gap exposed to the sky's light. It really looked like a bat cave, although the nearby bats were kept in contained spaces.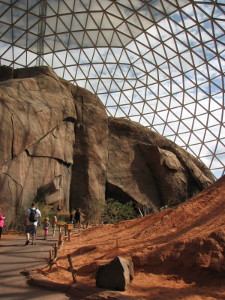 The Lied building housed the jungle biome. It was very large and its structural components masqueraded very well as native environment. It also included a few birds that could reach human paths. The bats in this daytime jungle building could roost anywhere, too. I don't know who the Lied family is, but their name was included in
the conference center
where I stayed in Nebraska City for the retreat event.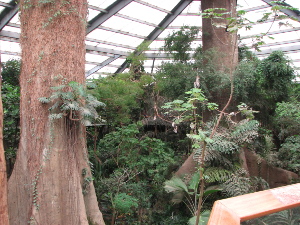 Elsewhere, the zoo included its large animal exhibits (with several many spaces under construction) and an Imax theater. The aquarium included an odd "virtual pool" where kids could jump around with the tidepool creatures. (At the Minnesota zoo, people can touch real animals in real water.)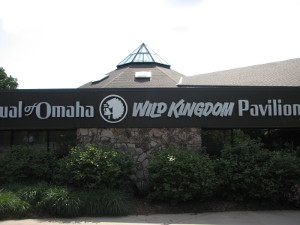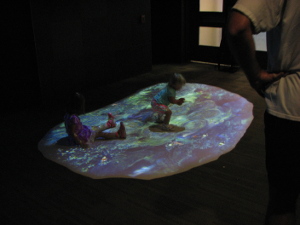 The one thing that actually surprised me on my mini-vacation, though, was seeing the many wind farms in Iowa.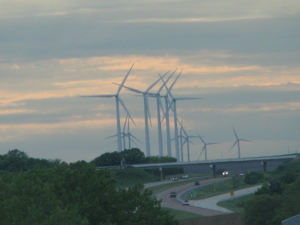 Who knew Iowa was investing so heavily in sustainable energy sources? Why isn't Minnesota dotted with these structures? Is the wind really so less common here?